Valencia 1 Homes and Real Estate – Valencia 1 Tracts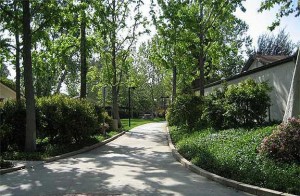 "Valencia 1" is perhaps aptly named since the first homes of Valencia were built in 1965,  Old Orchard 1 being  the first tract constructed where once an Old Orchard stood.
While these homes are some of the oldest in Valencia, they are also located most centrally with good access to both the I-5 and I-14 freeways. This makes this neighborhood a great candidate for those who want to buy in Valencia, for less money often than newer home neighborhoods, and those who like mature and lush landscaping, and ease of mobility.
Most of the tracts within the Valencia 1 neighborhood have Home Owner's Associations which means that neighborhoods are well kept and homes are beautifully maintained.
Condominiums and Town Homes
This is one of the largest of the neighborhoods within the Valencia area, and you can find single family homes, condominiums and town homes of all sizes.  All are situated close to major shopping centers, including the Valencia Mall, major business centers, golf courses,  and the College of the Canyons and the California Institute of the Arts.   And don't forget Magic Mountain!
Single Family Residences
Winding through the neighborhoods are the famous Valencia paseos, which are pathways connecting one neighborhood with another.  These pathways cross under and over boulevards so that there is no necessity to cross streets.  Lovely lush landscaping and mature tree parks make riding a bike or walking a pleasure. Children can play at the end of the many culdesacs and walk to schools nearby.
This neighborhood has tracts and homes any member of the family can enjoy.
Questions?
Please call me at 661 645 5556 OR