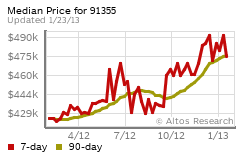 How is the real estate market in Santa Clarita CA? Are you thinking of  buying a home or buying a rental property?  Perhaps you are thinking of selling your home or investment property?  Or is renting a good proposition?
Understanding Santa Clarita Market Trends is Essential
Having an insight into what the Santa Clarita real estate market trends are,  is essential in being able to make informed buying and selling decisions.
Every day someone is asking the question – "how is the real estate market in Santa Clarita?"   Often differening information comes from different media outlets.
Is the information correct? Does it reflect what our Santa Clarita market is doing?  Do you find yourself asking the question "Can I make an informed buying or selling decision based on what I am hearing?"  What is a "great" market?
When you think about it, whether we are in a good, bad, or flat market, depends upon who the information best leans toward.  A great market for a buyer may be a bad one for a seller while a bad market for a seller may be a great one for a investor or home buyer.
We can provide you with information to help you answer the "How is the real estate market?" question by providing insight, graphs showing current Santa Clarita market trends and how it differs from past trends.  When are sales increasing, how long are homes on the market, what is the median selling price, the median price per square foot, and what is the market heat index?
How is the real estate market in Santa Clarita and its communities of Valencia, Stevenson Ranch, Canyon Country, Newhall, Castaic, Saugus, Agua Dulce, or Acton?  All can be sent to you via email.  Santa Clarita's real estate market is divided into the city areas listed below. You will be able to choose your individual zip code, and single family residences or condos and town homes, to see what the real time data tells you about what is happening in an area of interest to YOU.
Please complete your request for an update in the right sidebar.
How Is the Real Estate Market?
Santa Clarita Real Estate and Homes – Pia Soper, Realty Executives Santa Clarita