Valencia Creekside Homes – Creekside Valencia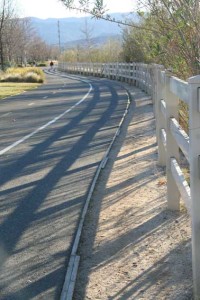 The Valencia Creekside real estate development is a popular, sought after neighborhood of newer entry level homes in Santa Clarita Ca, within the community of Valencia Ca.  The neighborhood  (Valencia Creekside map)  is accessed from  McBean Parkway and Newhall Ranch Road and the homes were built between 2004 and 2005.  The builders of the individual tracts were The Olsen Company, William Lyon Homes, Richmond American Homes, KB Home, and Warmington Homes.
Although you may feel a world away from everything in this lovely Creekside Valencia neighborhood  filled with trees and green areas, and in view of  the cottonwood trees that occur naturally in the creek itself, you will find  Creekside Valencia Ca homes within close proximity of the Golden State Freeway (I-5) and nearby Town Center and Town Center Drive .
There you will find numerous dining, recreation and entertainment opportunities, as well as lots of shopping outlets in the Mall which is centrally located for all homes in Santa Clarita Ca.
Valencia Creekside  is  also located along the San Francisquito Creek, and its walking and biking trail.   Bordered by a 17-acre public  park, the neighborhood has access to the Valencia paseo system and the Santa Clarita River Trail system as well as tennis courts, and game fields.  It also has two lovely community pool recreation areas.
A nature rich environment, close to great amenities, the Valencia Creekside neighborhood also offers easy access to some of the best Valencia schools.
Valencia Creekside Homes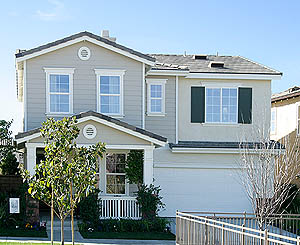 This beautiful real estate neighborhood not far from the center of Santa Clarita, will delight you in it's variety of homes.   Town homes,  condos, cottage-homes and single family residences are available and are within walking distance of the area's best Valencia schools.
Valencia Creekside homes are typically cottage-style architecture which enhances the neighborly feel. Wide streets with circle medians at street intersections as well as lovely green areas enhance the nature rich location.
There are six home tracts – Valencia Creekside tracts – all of which give an ideal opportunity for first time home buyers and young families to put down roots.  Garages are positioned at the rear of some homes, further promoting the front porch friendliness that is at the heart of this community.
Many different  floor plans,  are available to suit all tastes and needs.  You can view the floor plans and further information on each tract by clicking on Valencia Creekside Tracts in the right side bar or on one of these individual tract names.   Brookside Walk Tract (2 and 3 bedroom condos and townhomes), Andorra Tract (2 and 3 bedroom townhomes), Summer Grove Tract ( 3 bedroom cottage homes), Windsor Collection Tract (2 to 4 bedroom homes), The Willows Tract ( 3 and 4 bedroom homes) and the Somerset Tract (4 bedroom homes).  You can view the relative locations within the Creekside community.  Please click  Valencia Creekside Map.
Valencia Creekside Homes for Sale
The Valencia Creekside real estate development offers your family many options when looking for a new home.  You will find all the homes for sale here.  Please be sure to register to take advantage of the additional features such as email updates when new listings arrive on the market, saving favorites and more.  Or, when you get to the  Valencia Creekside homes for sale page, simply bookmark the page, and return as often as you like.
Return to other Valencia Neighborhoods
Valencia Creekside – A Valencia Ca Neighborhood
Valencia Creekside Backup Only Listings
[idx-listings linkid="307602″ count="20″ showlargerphotos="true"]
Valencia Creekside Pending Listings
[idx-listings linkid="307603″ count="20″ showlargerphotos="true"]
Valencia Creekside Sold listings
Our apologies for there being no further information on these homes.  Our MLS does not support further photos etc. once a home has sold.
[idx-listings linkid="307604″ count="10″ showlargerphotos="true"]
Valencia Creekside
Santa Clarita Real Estate and Homes for Sale – Pia Soper, Realty Executives

© Copyright Pia Soper  2002 – 2013