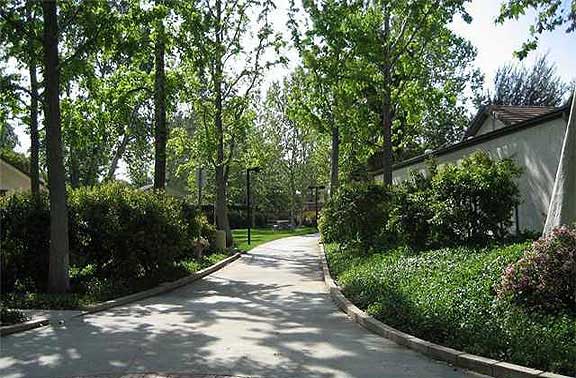 Learn more about each of the Valencia neighborhoods – when it was built, and what the individual tracts in each neighborhood are called. Links are provided to each tract, it's residences, floor plans and interior photographs. Information is provided on the location of the neighborhood, and whether the neighborhood is gated or not.
Valencia neighborhoods are some of the loveliest in Santa Clarita providing wonderful play areas, paseos which wind their way through and around each neighborbood, and recreation centers and parks. You are sure to find a neighborhood which will suit your budget and your lifestyle. 
Neighborhoods are divided into several tracts. Each tract has it's own individual character and home style.  Homes are single family homes, garden homes, or condos and town homes. Some neighborhoods are located near golf courses, others on a lake.  All are close to neighborhood shopping centers or the Valencia Town Center.
A feature that is most loved about Valencia neighborhoods is the neighborhood cul de sac system.  Major roads divert every day traffic away from the smaller streets of the neighborhood making it safer and quieter for Valencia residents.  Children play in a safer environment, and can walk or bike to school from their homes along the paseos at the end of the cul de sacs.
Want to see neighborhoods in other areas of Santa Clarita?  Please click on the areas see  "Santa Clarita Homes – Communities"
WANT MORE INFORMATION?


OR CALL PIA @ 661 645 5556
Valencia Neighborhoods Tracts and Homes – Valencia CA Real Estate