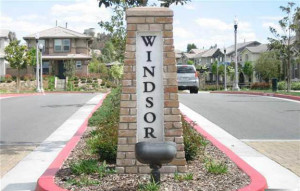 The Windsor Collection Valencia Creekside is a tract of homes within the Valencia Creekside neighborhood of Valencia CA  located in the city of Santa Clarita and part of Santa Clarita real estate.  These homes were built by KB Home from  2004 – 2005.  These homes are individual cottage homes on a zero lot line – a wall of one home acting like the fence of another, and they are on a condo title.  Entry to the neighborhood is marked with the sign shown left.
The homes are arranged around greenbelts with benches, pretty archways, and walkways that run throughout the development and join up with the Valencia Paseo system (Valencia paseo system and map) and the San Francisquito Creek Trail.  Garages are accessed from alleys behind the homes so fronts of the Windsor Collection homes show off architecturally attractive arches or cottage style porches.
While residents of the Windsor tract can enjoy the outdoors within the tract, they are also close to the Valencia Mall for shopping, restaurants, and the movie theatre.
Windsor Collection Tract Floor Plans
There are  4 different homes within the tract,  with floor plans ranging from 1516 square feet to 2156 square feet. Floor plans for the Windsor Tract had options at the time of building.  The smallest of the floor plans could have had 2 or three bedrooms and the largest of the floor plans could had had from 3 to 5 bedrooms with loft and den options.  The most popular of the floor plans, the Plan 3 has an option for a retreat for the master bedroom which opens up the main bedroom considerably.  Lofts and laundry rooms on the second floor make the floor plans extremely popular.  Small patio yards keep the lots small, but make the homes affordable.
Windsor Collection Tract Plan 1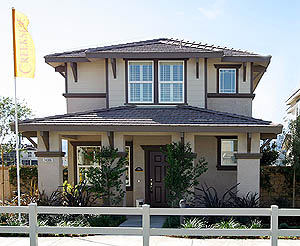 Bedroom: 2 with option for 3
Baths: 2
Loft option instead of bedroom 3
Powder room
2 car attached garage
Square Feet: 1516
Windsor Collection Tract Plan 1 floor plan

Windsor Tract Plan 2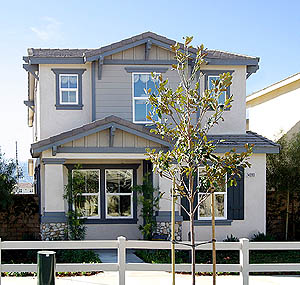 Bedrooms: 3
Baths: 2
Powder room
Loft
Square Feet: 1661
2 car attached garage
Plan 2 floor plan

Windsor Tract Plan 3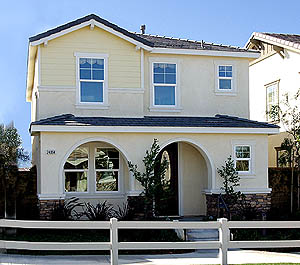 Bedrooms: 4 OR
Loft
Retreat off master bedroom
Baths: 2
Powder room
2 car attached garage
Windsor Collection Tract Plan 3 floor plans

Windsor Tract Plan 4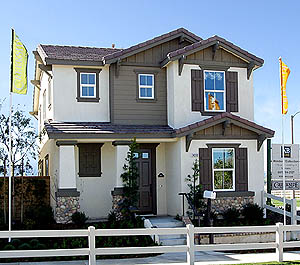 Bedrooms: 4 or 5 OR
Loft, Den replaces bedrooms
Baths: 2
Powder room
2 car attached garage
Square feet: 2044 – 2156
Windsor Collection Tract Plan 4 floor plan

Windsor Collection Creekside Valencia
Valencia CA Real Estate
Santa Clarita Real Estate and Homes – Pia Soper, Realty Executives