Agua Dulce Neighborhoods
Agua Dulce Real Estate Community Information
Agua Dulce and its homes are only briefly seen from the 14 freeway although there is a freeway off ramp. It is a lovely community of mostly custom built homes on larger acreage. People from all walks of life are represented here. Horse lovers, airplane lovers, stuntmen from the movie industry, film actors and actresses, vineyard owners (Agua Dulce Winery and Reyes Winery), business owners and executives, police and firemen, and many, many others. For it's size it has a couple of unusually excellent restaurants, The Sweetwater Cafe (661.268.1213, the renowned Le Chene (661.251.4315), and Maria Bonita Mexican Restaurant (661.268.8004). This small town is located between Sierra Highway and the 14 freeway. It's most famous landmark is Vasquez Rocks itself at Vasquez Rocks County Park. Many of you who have watched movies, TV and commercials, will find the rock formations very familiar. The rocks are the site of the movie "The Flintstones" and
many others. The "Lone Ranger" series was filmed in this location. In fact, the whole Acton – Agua Dulce area has been the site of many movies. As you drive along Sierra Highway you will often see film crews on the road or signs pointing to film locations. It is particularly spectacular to see Vasquez Rocks lit up by movie lights at night. During the day, there are many spectacular walks down into the canyon or over the rocks themselves. Don't miss this wonderful natural formation and it's beauty.
Agua Dulce Airpark has also been the site of many films and currently is under development as a housing tract with the airstrip as it's main feature. Although the source of much contention at times within the community, it was a lifeline and center of operations for fire and rescue workers during the 1994 earthquake. Many small airplanes are located here and the airstrip is well maintained. It has attracted many newcomers to the area who enjoy flying small airplanes, has been the site of 4th of July celebrations and annual runs. For pictures of the Agua Dulce area from the air and the airpark, please click here. For pilots and local residents alike, the airpark has once again come alive. There are barbeques on Saturday and Sunday from 11 am to 3 pm. Click here for details on the Airpark Ranch.
Schools are excellent. Acton-Agua Dulce School District has several Elementary schools, a Junior High School and Vasquez High School. Children are encouraged to engage in outdoor activities both in school and out.
The area elevation is around 3000 feet. Agua Dulce enjoys four seasons. There is often snow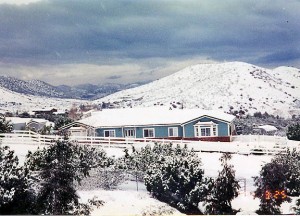 sprinkled on the ground during the winter and at times quite a heavy fall. The summers are hot but moderated by an afternoon breeze and marine layers that come in from the oceans. In fact, the summer evening are cooler than those of Santa Clarita at lower elevation. In spring, the hills are covered with wildflowers notably the California Poppy and Lupin. Fall colors are appropriate especially in the vineyards.
All homes in Agua Dulce are either on their own wells or truck in water. There is no public water system. Most homes use propane, however, homes in the center of the town are on natural gas. For the most part, cable is available and most homes have access to cable modem to access the Internet as well. Septic systems take care of sewage.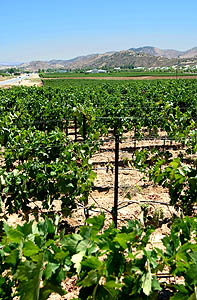 So, if you want to to get away from the hectic city lifestyle, try Agua Dulce with its clear mountain air, beautiful sunrises and sunsets. You can SEE the stars at night. It is a close knit community where neighbors look after neighbors and you can enjoy doing whatever you like to do most, and relax.
Very few tracts (2) of homes exist in Agua Dulce. Most Agua Dulce homes are custom homes on 2 plus acres. More commonly, the acreages are from 2.5 to 10 acres for each home. Square footages for homes tend to be large, over 2500 square feet being common, and equestrian estates are also found here. However 5000 square foot homes and larger are no longer uncommon. Absolutely stunning large homes are being built and more are to come. The area is becoming known for its peace and quiet and its low crime rate. No town homes or condominiums exist in Agua Dulce adheres to its Community Standards District zoning which does not allow for high density projects.
Home prices start around $300,000 and can be found going well over $1,000,000. 5 acres of good land with good water can sell for around $150,000, so you can also build your own dream home. This is a growing area. And it is beautiful.
To search all Agua Dulce homes currently for sale, please click here.
Agua Dulce Homes Recently Sold
[idx-listings linkid="220478″ count="20″ showlargerphotos="true"]
Agua Dulce Homes Currently looking for Backup Offers
[idx-listings linkid="220483″ count="20″ showlargerphotos="true"]
Agua Dulce Homes Currently in Escrow
[idx-listings linkid="220484″ count="20″ showlargerphotos="true"]
Agua Dulce Homes for Sale
[idx-listings linkid="146665″ count="15″ showlargerphotos="true"]
Santa Clarita Real Estate Communities
Agua Dulce CA Real Estate
Santa Clarita Real Estate – Pia Soper, Realty Executives Agua Dulce