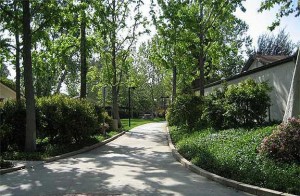 The Valencia paseo system is one of the most unique features of  Valencia Ca in the city of Santa Clarita.  The 30 mile (and more planned) system of biking trails, walkways and bridges lead into the backbone of the system, the Santa Clara River Trail and San Francisquito Creek Tail system.  All in all, miles and miles of trails are accessible linking tracts with tracts, neighborhood to neighborhood, and communities to communities.  Within the paseo system the user will find parks and recreation areas of Valencia neighborhoods and community parks of other communities of Santa Clarita.  Walk or bike to shopping centers and the shopping, restaurants and entertainment available at the Valencia Town Center.
The Valencia Paseo System allows children and adults alike to enjoy the wonderful outdoors of the city!  The weather is certainly beautiful for it!  Since the Santa Clarita trails and Valencia paseos within the system either cross over of under major streets, and wind their ways between neighborhoods, it contributes to safety of children and adds to the enjoyment of the natural beauty of tree filled Valencia. Some Valencia paseos are also even lighted at night! Great for exercising after work……if you combine the paseos and the trails throughout Santa Clarita, you have over 60 miles of workout possibilities!
The Valencia Paseo System is divided in two for convenience of map readability – North and South.  Both maps are presented here.  Please click on the North or South Valencia paseo maps to enlarge and view easily.
Valencia Paseo System Map – North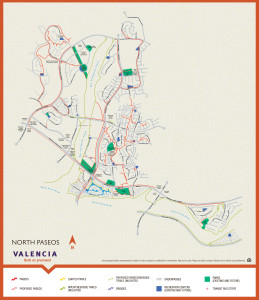 Valencia Paseo System Map – South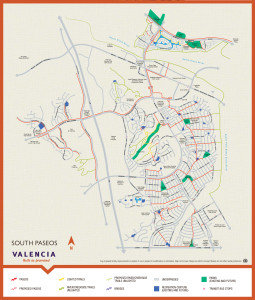 No matter whether you live  in the southern areas of Valencia near Lyons Avenue, or further north near Copper Hill Drive, you have excellent access to the Valencia paseos.  They can be found at the end of cul de sac streets, near your street, or near recreational parks and community recreation centers and schools.  Every neighborhood has access.  The public has access.  Parking areas near recreation centers enable everyone in Santa Clarita to enjoy this outdoor living style.
If combined with the Santa Clara River Trail you can bike, walk or skateboard all the way along the River to Canyon Country or out towards Castaic near Magic Mountain.  All trails wind through areas of trees and lovely housing areas with views towards the mountains.  No wonder Valencia and Santa Clarita as a whole is being considered by more and more families as a wonderful area to put down roots and raise a family, or just enjoy the active lifestyle as a single!
Enjoy hiking even futher out of of the city?  Hiking maps available here!
Valencia Neighborhoods
Valencia Paseo System and Map
Santa Clarita Real Estate and Homes – Pia Soper, Realty Executives
Copyright 2002 – 2013