All Valencia Bridgeport tracts and Valencia Bridgeport floor plans are found here.  Please click tract names to find details of Valencia Bridgeport tracts and their homes. See floor plans, and photos.   Valencia Bridgeport tract homes for sale.
Valencia Bridgeport Tracts – Tract Names and Home Styles
The Landing Tract – 3 Plans – Up to 5 bedrooms 3.5 baths and bonus rooms – 2680 – 3150 sqft
The Cove Tract – 3 Plans – 3 – 4 bedrooms, 3.5 baths – 2500 -2919 sq ft.
The Island  Tract- 3 Plans – Up to 6 bedrooms 5 bths – 2900 – 3500 sq ft
The Colony Tract
Backbay
Spinnaker Pointe  2 bedroom, Up to 2.5 bath condominiums and town homes
Waterford Tract
Stoneypoint Tract
Cabot Bay Tract
Valencia Bridgeport Tracts – Home Types
Bridgeport Valencia single family homes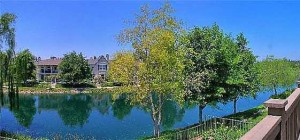 Valencia Bridgeport homes for the executive are beautiful single family homes with 4 or 5 bedrooms and are usually over 3000 square feet. Those Valencia Bridgeport homes in the gated community of  The Island, have property which sits on the lakeside itself. The Valencia Bridgeport homes in The Cove also have many houses situated on the lake. Homes with white picket fences are common in among green lawns, ponds, arbors and rose gardens. The Island tract is a gated community within Valencia Bridgeport.
Valencia Bridgeport homes for sale
Valencia Bridgeport homes for sale can be found for anyone who enjoys the water and open spaces, loves the Cape Code style, and the proximity to the Valencia Town Center and Town Center Mall as well as having great access to the I-5 freeway.
Bridgeport Valencia condos and townhomes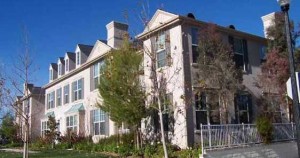 Valencia Bridgeport condos and luxury townhomes are located on the Valencia Bridgeport paseo system and some have views of the lake, others are located on greenbelts and adjacent to parkland. 2 – 4 bedroom homes are found in each of the individual townhome tracts.  Condominiums, town homes and free standing town homes are found.  The Colony is a gated tract together with The Island tract.  Others are not gated.
Valencia Bridgeport Tracts – Valencia CA Real Estate